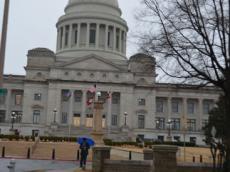 Azerbaijan`s and Turkey`s national flags have been raised outside the Arkansas State Capitol Building as Little Rock hosted a reception on Turkey-Arkansas-Azerbaijan friendship.
Following the reception, Turkish and Azerbaijani delegations met State Secretary of Arkansas Mark Martin, Lieutenant Governor Mark Darr and House of Representatives` Speaker Davy Carter. They discussed development prospects of bilateral partnership and cooperative relations.
The Azerbaijani delegation thanked the Arkansas officials for adopting resolutions adopted Arkansas by the House of Representatives and Senate on Khojaly massacre and on friendship with Azerbaijan.
The Azeri and Turkish delegates also met Arkansas Governor Mike Beebe, who praised the United States` relations with both countries.
Turkish MP Mehmet Öntürk noted that Azerbaijan`s and Turkey`s relations with the US had historical roots.
Counselor of Azerbaijan`s Embassy in Washington Fakhraddin Ismayilov stressed the importance of boosting cooperation in energy and economical fields.
He highlighted consequences of Armenia`s aggression against Azerbaijan, saying 20% of his country`s lands have been under occupation for more than 20 years.
Following the meeting, Senator Bryan King and members of the House of Representatives Jonathan Barnett and Karin Hope presented the copies of the resolutions to Counselor Ismayilov.
The event brought together officials of Arkansas as well as member of the general public, and activists of the Azerbaijani and Turkish communities the State.

/AzerTAc/