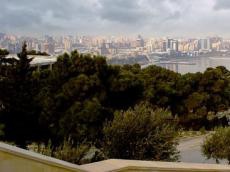 Chairman of the Azerbaijani Citizen and Development Party does not believe that significant results may be achieved with the format of "eight" parties.
"Serious problems are likely to be discussed and even some results to be achieved in the format of eight parties, but I am not so optimistic," he told Trend today.
He said that "eight" parties have established a single center of opposition and set a goal to act as a single team in the elections.
"Nominating any candidate on the forefront or any party's initiative were unacceptable," he said. "If the Public Chamber, in particular, Musavat Party, has nominated its candidacy and begins election campaign, the prospects of eight parties are not so good."
Aliyev also stressed that in case of obtaining an invitation, he will attend the next meeting of eight parties.
The eight parties include the Democratic Party, the Popular Front Party, Umid, Citizen and Development Party, National Independence Party, Classic Popular Front Party, the Liberal Party and Musavat.