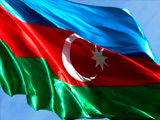 Azerbaijan`s Embassy in Pakistan has organized an event to mark 15 June - National Salvation Day.
The event brought together rector of the Quaid-i-Azam University Masoom Yasin Zai, dean of the University Qureshi, rector of the Preston University Abdul Basit, director of Pakistan National Library Chaudhry Nazir, director of Al-Bab Institute For Strategic Studies Jasim Taqi, editor-in-chief of Centreline magazine Ansar Bhatti, editor-in-chief of Diplomatic Insight magazine Asif Noor and others.
Opening the event ambassador Dashqin Shikarov said in June 1993 the Azerbaijani people faced the danger of civil war. In such difficult situation national leader Heydar Aliyev came to power and saved the Azerbaijani people and statehood. His coming to power is marked as National Salvation Day. The diplomat also spoke of successful reforms and projects carried out on the initiative of national leader Heydar Aliyev.
Speaking at the event Qureshi highlighted dynamic economic development process in Azerbaijan and the country`s international accomplishments.
/
AzerTAc
/