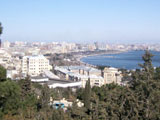 The 4th Azerbaijan International Education and Career Exhibition-2010 will be conducted here on October 7-9. More than 90 educational institutions and organizations will participate in the exhibition organized by Azerbaijan Ministry of Education and Azerbaijan Ministry of Youth and Sports.
The exhibition will provide education opportunities in Azerbaijan, Austria, United Kingdom, Hungary, Germany, Greece, Spain, Italy, Canada, Korea, Latvia, United Arab Emirates, Russia, USA, Turkey and Switzerland.
Present for the first time this year will be the national group of Turkish universities, which includes 14 educational institutions from Ankara, Istanbul and Izmir. Presenting their educational programs will be such well known universities as: Izmir Economic University, Istanbul Culinary University and Art Academy, Istanbul Aydin University, Isik University, Halic University as well as other prestigious institutions of the Republic of Turkey.
Visitors will be offered more than 60 fee-based and free-of-charge educational opportunities in faculties, courses and programs in diverse fields from culinary arts to technology.
Tuition in universities and schools will vary depending on faculties. The exhibition will showcase: preschool and middle school education, higher education programs, distance learning, overseas education, student exchange programs, scientific degree programs, recruitment agencies, career planning and development consultations, optional education and programs on tourism, language courses, summer schools, new information technology, multimedia systems, video and TV equipment and computers.
The exhibition will be accompanied by workshops, competitions and training seminars.
/AzerTAc/