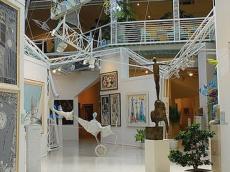 An exhibition by German photographers Susanne Brugger, Thomas Demand, and Heidi Specker will open in the Baku Museum of Modern Art on January 24 at 6.30 p.m.
Titled "Real space, Conceptual space", the exhibition is organized by the IFA, Institute for Foreign Cultural Relations, in collaboration with the German Embassy in Baku.
The IFA is presenting this show of German photo art from the 1990s with curator Ute Eskildsen to continue the exhibition series "Aspects of Contemporary German Photography".
The title of the exhibition subsumes three different working methods, the common content denominator of which is public space.
This interrelation is evident in the blurred, and thus abstracted, architectural images by Heidi Specker, the dissecting approach of Susanne Brugger, and Thomas Demand's constructed interior views.
The special emphasis on space in the exhibition's title which is connected to the terms "reality" and "picture" points to the specific analysis of a theme with the available means of expression, i.e. photography, which transforms space and time into an image through reproduction.
The results of this pictorializing process is represented at the exhibition with eight black and white photos by Susanne Brugger, seven large-format color photographs by Thomas Demand, and twelve color prints by Heidi Specker.

/Trend/