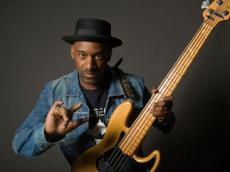 By AzerNews
A solo concert of American jazz musician Marcus Miller will be held at the Heydar Aliyev Palace in the Azerbaijani capital Baku on October 31. The concert will take place in the framework of the Baku International Jazz Festival.
Tickets are available at the city box offices.
William Henry Marcus Miller Jr., also known as Marcus Miller, is a legendary jazz musician, composer, producer, arranger and multi-instrumentalist, who was born in Brooklyn, New York, in 1959. He was raised in a musical family that includes his father, William Miller, a church organist and choir director. Miller gained great fame as a virtuoso bass guitarist and bass clarinetist. Miller is also the winner of the Grammy for Best Contemporary Jazz Album in 2001 and co-author of the best rhythm and blues song in 1991 (Power Of Love/Love Power).
The Baku International Jazz Festival will be held from October 23 to November 2, according to the website of Azerbaijan's Ministry of Culture and Tourism. Traditionally, the festival features renowned musicians from a plethora of countries.
Within the framework of the festival, there will be performances by Joshua Redman, Kerry Garrett, Avishai Cohen, Bob James, David Sanborn and others at the Heydar Aliyev Palace, as well as the International Mugham Center and Baku Jazz Center.