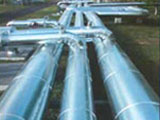 "The gas tariff for individuals and legal entities will vary depending on whether Azerbaijani side will raise price up to $200 per 1000 cubic meters instead of current $120".
The due announcement was made by expert on energy issue Liana Dzhervalidze at a press conference held in the Tbilisi international press center of RIA-Novosti on April 23.
"Hopes that the gas price will remain on the level of $120 are too optimistic. I think the price will rise significantly", the expert considers.
She noted that "Azerbaijan tends to enter the European market." "For this purpose, it is important for us as a transit country, considering the Baku-Tbilisi-Erzirum gas pipeline", she noted.
Liana Dzhervalidze also stressed the need to boost prospects of long-term contracts for gas consumption betwee the suppliers and large consumers, not depending on distributors.
She also called it revolting that the "state holds talks on prices and volumes of gas supplies for 2008 in April of 2008".
Malkhaz Dzidzikashvili, public defender of rights of energy consumers under the National Commission for Energy Regulation, also shared Dzhervalidze's opinion.
He sees the main problem in the absence of tariff as well as energy-saving state policy.
"We have some comments regarding the methodology as it has been worked out nearly 10 years before. Most standards have become worn out through this period. In line with current methodology, gas price depends on purchasing price", said he.
He noted that "he does not know the price of gas, supplied to Georgia from Russia".
According to Liana Dzhervalidze, Georgia currently receives up to 200,000,000 cubic meters of gas from Armenia and about 300,000,000 cubic meters in the framework of the Shah Deniz project.
She said Georgia receives gas from Armenia as well as 5% from transit from the Shah Deniz field, as a payment for gas transit to Europe.
The expert reminded that SOCAR is currently the main gas supplier from Azerbaijan, while Russia accounts for nearly 60% of gas supplies to Georgia.
It should be reminded that the talks between Azerbaijan and Georgia on gas purchase will be held in Tbilisi on April 25.
/Novosti-Georgia/