Prices on gas produced from Shah Deniz field in Azerbaijan will change beginning from April 15.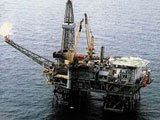 The due announcement was made by SOCAR vice president Elshad Nasirov on Wednesday.
"Beginning from April 15 of 2008, all volumes of natural gas, supplied to Turkey from Shah Deniz gas condensate field, will be sold by new price.
The talks are currently held with Turkish partners but the time of completion of talks is not known. Anyway, beginning from April 15, the price on gas will change regardless of terms of talks", the vice president noted.
"New price for Azerbaijani gas will be calculated by a new formula.
He said the price limit will not be set while establishing a new price as it has been made earlier. While concluding the agreement on gas sale and purchase with Turkey, the lower limit was set in the amount of $70 per 1000 cubic meters and the upper limit $120 per 1000 cubic meters", noted he.
/Day.Az/