Azerbaijan International Mining Operating Company has launched exploration work in Gosha Gold Field, located in Tovuz Region.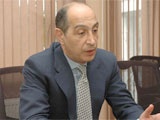 Reza Vaziri, President of Azerbaijan International Mining Operating Company, told APA-Economics that exploration has also started in Maarif Field located in the contract area of Gedabek Field.
"We have great hope for these fields. Exploration in these two fields is predicted to spend $1.5 million to $2 million," he added.
This field is expected to reserve 600,000 ounces of gold.
Anglo Asian Mining Plc (49%)and Azerbaijan (51%) signed a 30-year Production Sharing Agreement (PSA) to establish Azerbaijan International Mining Operating Company to develop previously identified copper and gold properties in Azerbaijan that lie on the Tethyan Mineralization Belt which runs between Turkey and Pakistan.
The joint venture has 8 copper and gold development properties in 3 separate mining areas of Azerbaijan.
The Company also has rights to three additional Contract Areas in Azerbaijan's territories occupied by Armenia.
Under the Production Sharing Agreement, 400 tons of gold, 2,500 tons of silver and 1.5 million tons of copper will be extracted from the contract areas.
/APA/