Azerbaijan's share in the project of a large-scale development of the Azeri-Chirag-GUneshli fields has risen from 25% up to 50% this year.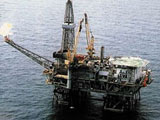 The due information has been provided by SOFAR chief executive Shahmar Movsumov during a press conference.
He said the transfer to a new stage, which implies the transfer of 80% of revenues from the Azeri-Chirag-Gunesli oil production to Azerbaijan, is expected this year.
Movsumov noted that the title to the assets of the Azerbaijan International Operating Company must pass to the state when the day of the so-called "zero balance" comes in line with Production Sharing Agreement on the unit development.
"We expect it to occur in mid 2008. At the same time, the Azerbaijan International Operating Company will continue to use this equipment until the termination of the contract", Movsumov concluded.
/Day.Az/