Azerbaijan's gross domestic product grew 46.7% in January, year-on-year, or by 524 million manat (over $681 million), to 1.6 billion manat (about $2.1 billion), the statistics committee of the energy-rich South Caucasus nation said Thursday.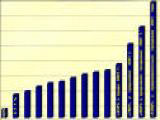 It said per capita GDP in the reporting period was 195.7 manat, or $224.6.
The production sector contributed 75.1% to GDP, including 66.7% from industry.
The construction sector accounted for 6.3%, agriculture and forestry 2.1%, and the services sector 19.9%.
Azerbaijan holds vast oil and gas reserves in the Caspian, which it exports to neighboring Georgia, Turkey and Europe. The high oil price was a major factor in the country's impressive GDP growth. RIA Novosti