Some technical and juridical issues were not yet coordinated.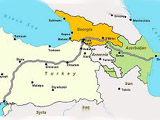 Natiq Aliyev, minister of Industry and Energy said that the reason of delay was the delay of production from Kazakhstan Kashagan oilfield. According to the minister the companies working in this oilfield said that the first production of oil would be in 2008 and they will not join earlier than 2010, ANS informs.
There are also technical problems. Though the sides were coordinated the intergovernmental agreement but the status of document were not defined yet. There are problems with the demands of last year-accepted law for international agreements in Kazakhstan. Mr. Aliyev said that there were some contradicting articles. "It is written there that the legislation of Kazakhstan is higher than any other international laws. That's is why they should make it clear to us. Kazakhstan side promised that the Ministry of Justice of Kazakhstan gives us clearness." According to his words the meeting will be held between sides on March. The status of the contract will be defined in this meeting.