The delegation of Azerbaijan State Railway Office (ASRO) will attend the 42nd meeting of Board of Railway Transport of CIS and Baltic States that will take place in Ashgabat on November 22-24.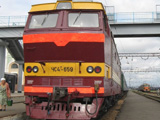 Head of press service of ASRO Nadir Azmammadov informed APA news agency that at the meeting there will be discussed: the implementation of decisions of 41st meeting of the Board and issues on the results of the exploitation of railway networks for nine months of 2006.
The norms of schedule of passenger trains and cargo trains for 2006-2007, issues on compile of railway freight cars and cars with containers on international roads, as well as initial results of making out the list of the cars.
The issue on joint usage of railway freight cars and containers belonging to Latvia, Lithuania and Estonia by the members of the union, implementing the joint agreement on increasing the number of railway freight cars, their modernization will be discussed. The discussions will also focus on making amendments and additions to the rules of passenger transporting in the interstates trains too.
APA