The state investment company will be established in Azerbaijan. About $100 million is planned to allocate from the state oil budget of Azerbaijan for its capitalization.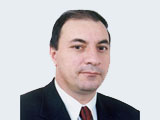 The Finance Minister Avez Alekperov told Trend about it.
The company will finance implementation of projects in Azerbaijan, particularly, large, potentially targeted ones and create new jobs. Establishing of the company is scheduled for the next year.
"The investment company will function beyond any department. Its composition and structure are not defined yet. It will be structured of the representatives of the Ministry of Economic Development, Finance Ministry, the State Oil Fund and etc.
The company is not supposed to be funded by the country's budget. The final issues related to the establishing of the company will be clarified in 3-4 months, when the relevant decree will be signed, its regulations will be prepared and etc", Alekperov noted.
According to him, at the result of the monitoring it was found out, that the company has debts to Joint Stock Company Azerenerji for the electrical power supplied in the amount of 85 billion AZM ($18,4 million). «However, the government owes the company (to Barmek) 225 billion AZM ($48,9 million). It is the data from the Ministry and I have nothing to comment on", he said.
It should be noted, according to JSC Azerenerji the debts of Barmek Azerbaijan to JSC exceed 102 billion AZM ($21,6 million).