The head of the state Ilham Aliyev signed a decree on assertion of the regulations on the copyrights Agency of the Azerbaijan Republic.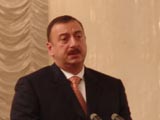 APA was informed about it from the press-service of the President's Apparatus. According to the decree of the president, solution of the questions originating from this decree was commissioned to the Cabinet. The chairman appointed by the president will head the agency to be situated in Baku city. The chairman will have one deputy appointed by the president. According to the regulations, the Copyright Agency was given some rights.
Realization of the control on keeping the legislation being in force in the field of intellectual property rights, preparing recommendations on improving the legislation for the purpose of creating more appropriate juridical conditions for activity of creative persons working in science, literature and art fields and turning the intellectual property to the commodity and carrying out state registration of the objects of the intellectual property, creating the national information system about right owners and users and conducting respective measures for periodical improvement of this system are among these rights.
The structure can ensure international interchange of the intellectual property and partnership in this field in the frame of its authorities. According to the regulations, the agency has the functions to create state programmes on different directions of the intellectual property field and carry out measures for realization of these programmes and can also represent the state in international organizations. Realization of recommendations and measures on conducting measures in connection with protection of the rights of Azerbaijani authors and owners of other rights during the use of their works and other intellectual property objects abroad and keeping the legislation when using works of foreign authors in Azerbaijan was also included in the authorities of the agency.
The agency which has to raise a question before international organizations in the frame of its authorities for preventing the cases of law violations which can occur during the use of examples of the Azerbaijani folklore and author's works abroad, also has the right to protect the interests of the state and bring a suit for determining material damage caused in the result of law violations. The agency also has the authority to cooperate with the state organs, juridical persons and international organizations in the fields which were related to its authorities for realizing its duties and functions, prepare projects of international treaties (agreements), conclude inter-offices international treaties (agreements) in a form determined by the legislation.