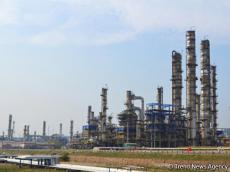 By Azernews
By Sara Israfilbayova
The official opening ceremony of STAR refinery, owned by the Azerbaijani state oil company SOCAR, is scheduled for October 19.
Earlier, it was reported that STAR refinery will reach its full production capacity in January 2019.
STAR Refinery, with a crude oil processing capacity of 10 million tons, will meet more than 25 percent of the processed oil products need of Turkey upon its startup. Certified with the first investment incentive granted by Turkey, STAR Refinery will eventually reduce the foreign-dependency of the country.
STAR Refinery, foundation of which was laid in 2011, is located on a 2,400-hectare site on Aliaga Peninsula. The Refinery is underway as the most critical component of SOCAR Turkey's integrated energy solutions and value chain.
As many as 1.6 million tons of naphtha, 5 million tons of diesel, 1.6 million tons of jet fuel, 300,000 tons of LPG, 160,000 tons of sulfur and other products will be produced here.
The construction of the Refinery is undertaken by a multinational consortium, comprised of Técnicas Reunidas (Spain), Saipem (Italy), GS Engineering (South Korea) and ITOCHU (Japan).
Founded in 2008, SOCAR Turkey, officially titled "SOCAR Turkey Enerji A.?.", is an affiliate of SOCAR, one of the most well-established oil and natural gas companies of the world.
With its total investment volume of $19.5 billion to be realized by 2020, SOCAR is the biggest foreign investor of Turkey. Similarly, SOCAR's group companies in Turkey, namely Petkim, STAR Refinery, Petlim Container Terminal and Trans-Anatolian Natural Gas Pipeline (TANAP) represent the largest-scale investment Azerbaijan has made to a single country to date.
SOCAR is a wholly state-owned national oil company headquartered in Baku, Azerbaijan. The company produces oil and natural gas from onshore and offshore fields in the Azerbaijani section of the Caspian Sea.
SOCAR includes such production associations as Azneft (the enterprises producing oil and gas onshore and offshore), Azerikimya (the chemical enterprises) and Azerigas (distributor of gas produced in the country), as well as oil and gas processing plants, service companies, and the facilities involved in geophysical and drilling operations.