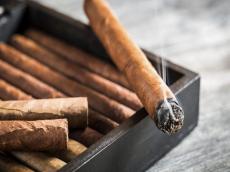 By Azernews
By Sara Israfilbayova
Increasing the tax on cigars and cigarillos (thin cigars), produced in Azerbaijan, will not have a major impact on the market of tobacco products in the country.
Azerbaijani MP, doctor of economic sciences Rufat Guliyev told Trend that it is proposed to introduce changes to the Tax Code, which provide for an increase in the tax on cigars and cigarillos produced in Azerbaijan.
According to the changes, a tax of 20 manats ($11.8) will be levied for every 1,000 cigars and cigarillos produced in Azerbaijan. Today, this tax amounts to 10 manats ($5.8).
The changes will be discussed at a plenary session of the Parliament of Azerbaijan on June 12.
"If changes are made, it will not have any serious impact on the tobacco market in Azerbaijan. Today, cigars and cigarillos account for a maximum of 0.1-0.2 percent of the market in the country. They belong to a higher class of tobacco products than cigarettes and are not products of mass use," said Guliyev.
In January-April 2018, tobacco products amounting to 11.51 million manats ($670,000) were produced in Azerbaijan, according to the State Statistics Committee.
During the reporting period, Azerbaijan exported tobacco and its industrial substitutes worth $3.99 million, imported - worth $34.93 million. In comparison with January-April, 2017, exports decreased by 25.61 percent, imports - by 22.51 percent.
In late December, Azerbaijan adopted the law "On Restriction of the Use of Tobacco Products".
In accordance with the law, smoking is forbidden throughout the territory of various educational institutions, in hotels, health care facilities, rehabilitation centers, health resorts, social facilities, theaters and cinemas, at exhibitions, reading rooms, libraries, museums and other cultural institutions, in underground and overground crossings, buses (including intercity and international), taxis, metro, air, railway, sea and river transport, bus stops, railway stations, river and sea ports, airports, elevators, common areas of multi-apartment buildings, in buildings and enterprises where flammable substances are stored, on playgrounds, beaches, workplaces of organizations, enterprises, offices, regardless of organizational and legal form and ownership.
Allocation of places for smoking will be transferred to the discretion of employers. In addition, municipalities are given new powers to take action against the use of tobacco products. They will take steps to restrict the use of tobacco products.