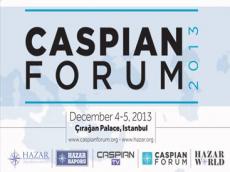 Caspian region will once again be the centre of trade relations between East and West, said in declaration adopted on the results of III Caspian Forum in Thursday.
"Geostragetical way of Caspian sea between East and West made it important place crossing trade, transport and transit ways, earlier called as "Silk way". Caspian Forum is confident that, together with the development of transport and transit infrastructure in the region , it will once again be center of trade between East and West " - said in a declaration.
The Forum stressed the importance of the Caspian transit corridor to diversify the region's economy and provide more favorable transit route for trade and investment in this vast territory from China to the UK , covering East Asia , Central Asia , the Caucasus and Europe.
"According to the Asian Development Bank , the implementation of the Caspian transit corridor will give impetus to the growth of GDP in the region, at least 16-17 per cent , and in the seven-year period up to 2020 the impact of 50 per cent . Caspian Forum brought together representatives of political circles , which will create the necessary conditions for the implementation of a future-oriented project of the Caspian transit corridor ", said in document.
In addition to transport , a factor of economic independence and tool linking the country and ensuring the prosperity of the region, is energy.
"Caspian Forum examines the Southern Gas Corridor as the basis for this new perspective . Corridor's potential allows to become a major channel for the transportation not only Caspian energy resources, but also gas from the gas fields in Eastern Mediterranean, Turkmenistan and northern Iraq . Forum considers transport and energy two main pillars for a new definition of the Caspian region, " - said in a declaration.

/Trend/