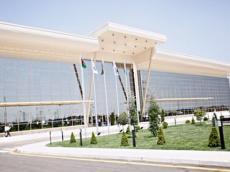 CATEF 2013, the Caspian Aqua Technologies Exhibition and Forum, will be launched at the Baku Expo Centre from 11 to 13 April 2013. CATEF, the only event in the Caspian Region for presenting the latest achievements in water technology, is organised on the initiative of and actively supported by Azersu JSC, and the organisational partner is Iteca Caspian.
The major projects underway or planned in Azerbaijan, the real potential to use the latest equipment and technology in the country's companies, and the ever-growing interest in the region among investors are all reasons for CATEF's relevance. This new exhibition will showcase water supply systems, sewerage and rainwater treatment systems, micro tunnelling systems, measuring and regulating technology for water analysis, pumps and pumping systems, security for drinking water sources, construction machinery and equipment, drilling units, ICT, geothermal and desalination technology, and other new technology in water supply and sewerage.
Leading companies that will take part in the event include Akkord Azerbaijan, Hyundai (South Korea), Herrenknecht AG (Germany), Krohne (Germany), Nippon Koei (Japan), Samsun Makina (Turkey), Sumgait Technology Park (Azerbaijan), Awas (Germany), DOW (USA), Duktus (Austria), Suez Environment (France), Xylem (Sweden), Hungarian Water Cluster (Hungary), PWT (Germany), Ekoton (Russia), Grundfos (Denmark) and others.
The Caspian International Aqua Technologies Forum will run alongside CATEF 2013 at the Marriott Hotel. Its main topics will include, but are not limited to: innovative technologies for processing drinking water; wastewater and runoff water processing; use of disposal products; trenchless construction methods for utilities; drying swamps and artificial lakes; and environmental zones. Participants will include government body officials, figures from industry and municipal services, national experts, managers and ecologists from major industrial firms, suppliers of eco-technology and eco-services, and representatives from scientific, research and design institutes of the sector, associations and NGOs.
CATEF is set to be an important event for the sector. The simultaneous holding of an exhibition and forum will combine demonstration of advanced technologies with discussion of problems. The event is certain to help develop productive international cooperation between professionals in related industries, as well as being a place to build business contacts, exchange experience and sign long-term contracts in water supply and water resources.

/Trend/