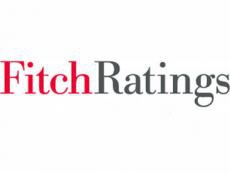 Fitch Ratings has revised the Outlooks on Azerbaijan's Long-term foreign and local currency Issuer Default Ratings (IDR) to Stable from Positive and affirmed them at 'BBB-', the agency's statement said on Friday.
The agency has also affirmed Azerbaijan's Short-term foreign currency IDR at 'F3' and Country Ceiling at 'BBB-'.
"The windfall character of Azerbaijan's oil income - especially by comparison with similarly rated oil producers - puts a premium on its ability to save a large share of oil revenue," Charles Seville, Director in Fitch's Sovereign team, says.
He said the revision of the Outlook to Stable better reflects Fitch's view on the likely direction of the rating. The general government increased spending by more than expected in 2011, and oil production fell unexpectedly sharply. At the same time, the agency recognises that the sovereign balance sheet continues to strengthen, and that the general government is running substantial surpluses.
The government's revision to the 2011 budget resulted in an overall increase in spending of 30 percent year-on-year, financed by a 50-percent rise in use of State Oil Fund (SOFAZ) resources. Nearly half the budget was development or investment spending. Fitch expects the government to refrain from a supplementary budget in 2012.
"Sovereign assets are a major support to the ratings, underpinning a strong external balance sheet and dispelling concerns about external financing. They also provide the government with great financing flexibility, allowing it to finance counter-cyclical spending without borrowing. However, the government needs to accumulate assets to prepare for a forecast fall in petroleum revenues in the 2020s. The non-oil fiscal deficit is above its long-run sustainable level," the agency's statement said.
Fitch forecasts sovereign assets to rise by another $18 billion in 2012 and 2013, reaching $58 billion (82 percent of forecast GDP), placing Azerbaijan among the top ten sovereign net creditors rated by Fitch. The Central Bank of Azerbaijan (CBAR) and the SOFAZ together added $11 billion in reserves in 2011, to reach a total of $40 billion. Azerbaijan has the strongest net external creditor position in the 'BBB' range of 82 percent of CXR.
Recent developments have also focused attention on the oil production and GDP growth outlook. Oil production fell 10.6 percent year-on-year in 2011 and while production stabilised in Q1, compared with the previous quarter, it will not recover the 2010 peak of one million barrels/day before 2014. Fitch notes Azerbaijan's oil output is more volatile than is the case for sovereign rating comparators such as Russia ('BBB'/Stable) and Kazakhstan ('BBB'/Positive).
Real GDP will grow at 3 percent in 2012-2013, modest by comparison with the 2007-11 average. With the oil sector flat at best, growth prospects hinge largely on the non-oil sector. Absent improvements in the business climate and competitiveness of markets, activity will rely heavily on growth in public spending.
The banking sector is weak relative to other 'BBB'-category sovereigns, but prudential indicators have stabilised. The authorities have injected capital into the largest bank, International Bank of Azerbaijan (IBAR), allowing it to meet the minimum capital adequacy ratio but leaving little capacity to absorb further losses.
Inflation has fallen sharply in Azerbaijan. "The Central Bank met its inflation target in 2011; the official inflation rate fell to 7.8 percent and fell further in Q112. In 2012-13, CBAR will maintain the de-facto peg, but intends to allow slightly more exchange rate flexibility," the agency notes.
Fitch says a longer track record of prudent fiscal management, allowing the continued accumulation of sovereign assets and preserving macroeconomic stability, would be positive for the ratings. Similarly, a transition to more self-sustaining growth in the non-oil sector, which will require institutional improvements, would be a medium-term driver of positive rating action.
The standout vulnerability of the public finances is to a downward oil price shock. A severe and prolonged oil price fall below $80/b would test the authorities' ability to adjust and would likely lead to a deteriorating net asset position. However, Azerbaijan's budget balances at a lower oil price than is the case for Russia.
/
Trend
/