Exclusive interview with an upcoming martial arts star from Netherlands, Ron Smoorenburg.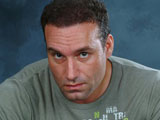 Ron Smoorenburg is definitely a star in the making. The man was born in Holland in 1974, and is only of few martial artists born in Netherlands, to make it in Hollywood. Others who can be mentioned are Bas Rutten and Rob Kaman. Smoorenburg started his training at a very young age, and by the age of 23 he got his big break – a main villain role in a Jackie Chan film "Who Am I?".
After that, the career took off, and Smoorenburg recently finished filming "The Eagle Path", where he goes head to head with none other than Jean-Claude Van Damme. In this exclusive interview, Smoorenburg talks about how he got into martial arts, his work with Jackie Chan, his life in Thailand, and what he prefers doing in his free time.
Ron, please tell us how you first got into martial arts , and when did you decide to break into the movie business? Was it since your childhood, or it came up later?
I got into martial arts with Judo, but my real passion for
martial arts
came when I was 12, and saw Jackie Chan's "Young Master". It was a good period, and at that time with "Rocky IV" and these Ninja series "The Master" which were very popular in Holland. Everybody was making ninja stars and weapons in my neighborhood. In the video store we had a separate section with VHS martial art movies. A few years later, I saw "Bloodsport" with Jean-Claude Van Damme and he was the biggest inspiration for me. I started to do Kyokushinkai Karate and I was kicking all the leaves from the trees in my street, got obsessed with flexibility, leg holding and kicking. There were a lot of holes in the ceiling and in my walls at my parents' house from kicking, but I had to cover these with posters. People said I was crazy and boring, training all the time, only talking about movies and fighting.
There was one guy with a lot of fantasy who told me I could be an action star, because I got the looks and the kicks/moves for it. When we were together or seeing some friends he always wanted me to demonstrate some kicks and combo's to show off. That's how I got the feeling I could really do it.
According to IMDB, you have a 4th degree black belt in Freefight. Could you tell our readers what is that fighting style? Freefight? How different it is from traditional fighting styles?
Above all, I wanted to be a good martial artist, and I believed what I saw in "Bloodsport" was real, and I wanted to be like that. I became the Dutch karate champion when I was 15, and won my first free fight tournament. Freefight in the early days was not the MMA (Mixed Martial arts) from now, but the time they just started to experiment with it. At that time, there were more differences between the fighters having their own style, and some rules were not even clear. But these differences made the Free Fight special for me. If you watch the first UFC's (Ultimate Fighting Championship) its actually quite interesting and entertaining. For sure some people will agree with that.
My team mates and teachers were all very experienced fighters and I am thankful for that. "The first free fight lesson" I had after receiving my black belt - they told me I was show boating too much with my kicks. So the teacher took me separate and almost knocked me out in a sparring contest. He thought I would never come back, but I liked this kind of training and did it for 9 years and got the 4th degree black belt. I have to be honest, that actually I do not care so much about the belts, but more about the fighter himself.
Ron, please tell us how did you first get your start in the movies? According to IMDB, you got your first starring role in Jackie Chan's film...
With Freefight everything was going very well and my teacher foresaw my future as a successful Freefighter. But then I won the title "Highest Kick (11 feet)" and just after that Jackie Chan came to Holland for his movie 'Who am I?'. There were so many people who wanted to work on this movie, I couldn't get through. But I kept calling the casting agency. Finally I got a part as an extra, (business man) in the background. I told them I loved to perform a fighting scene, but the Dutch stuntmen were laughing at me and told me to jump down a building first to see if I am really ok… Everybody was busy on the set, and nobody spoke to me. But there was one quite old Jackie Chan stuntman who told me to give him my "showreel".
I didn't even know what that was, but when I came home I made this video tape.  The next day in lunch time, Jackie saw this tape and 5 minutes later the whole crew invited me to do a live audition. It went well and I got the main fight in the movie.  
What was it like working with Chan? Action movie fans agree, that working with him must be tough, with all the crazy stunts and fighting... What was your experience like?
Working with Jackie Chan has been the most demanding job in my life. But with the best result I ever had in a movie fight. Even when you practice all your life, to play a movie with someone who did 40 movies before you… then you have to adapt quickly. The good thing was that I was able to show a lot of my kicks, but just after the beginning I got doubled for a kicking combo, I actually could do myself. Now 13 years later I understand why, with all the pressure on the set, and see that many people got doubled sometimes, but it hurts if you know you can do it. But at that time I had to get used to the timing of Jackie Chan which was incredibly fast. Anyway the fight was quite long and I could show a lot of stuff in there. Everything I was training for so many years. All the movies I did later, with Tony Jaa, Jean-Claude Van Damme , Donnie Yen, never have been that hard as the one with Jackie Chan. But that's the best way to learn, I'm very thankful to him.
You now live and work in Thailand, why didn't you come back to Netherlands, or straight to U.S., where film market is a lot bigger than in Thailand?
In 2000 I went to Hong Kong, which is the place for martial art movies. Playing in these movies was hardcore, with, at times, very dangerous stunts. I went back to Holland but I just couldn't stay there. I missed Asia a lot. With Tony Jaa as an upcoming star ("Ong Bak") I went to Thailand and played a part in "Tom Yum Goong" and a commercial with him. For me American action
movies
were to much 'cut up' into close ups and inserts, you sometimes don't even see what's happening, while in Tony Jaa's movies you see the whole move actually hitting someone with some great moves. That's what I'm training for.
Recently you completed filming your part in Jean-Claude Van Damme's film "Eagle Path", which was shot in Thailand. Tell us about how did the filming go, and how was your work experience with Van Damme going on?
Working with Van Damme is my biggest dream and I have a fight scene in "The Eagle Path". Van Damme is very passionate, and a real person, with a lot of experience. He's a very good person and takes care of you a lot while filming. Can you imagine if there was no Van Damme ? MMA-Freefight (based on "Bloodsport"), and tricks based on the early kicks-flexibility of Van Damme, it just wouldn't exist today. Van Damme made a whole new action era, everybody should realize that.
In your opinion, how is the Thai movie industry is developing these days?
Thai movie industry is great because we have action movies coming in from all over the world. I worked for Japanese, Korean, Indian, Hollywood, Chinese and Thai movies over here in Bangkok. The last movie I did here was 'Largo Winch 2' with Sharon Stone. It was a great shooting.
Besides acting, according to your Facebook page you are a web designer. Are you working as a freelancer, or in some graphic designing/designing company?
I love to develop my mind also and I love designing art, so sometimes I make action websites, graphics and can also develop my creative skill, which is very important in everything. Also a good balance in life. When you are tired from training, you can relax and design. Good balance - that's what its all about in life.
T. Teymur
/Today.Az/
Click photos to enlarge:
More articles from this author:
Martial Arts superstar Loren Avedon talks about Azerbaijan, Quentin Tarantino, shares memories - PHOTOS
Lost Today.Az interview with the "Best Karate fighter in the U.S." - PHOTOS
First of its kind: Azerbaijani "Street Fighters" film hits the internet - PHOTO - VIDEO
Story of a man behind the mask, or someone who made Arnold Schwarzenegger run for his life... - PHOTOS
Former kickboxing champion, Hollywood actor Gary Daniels: I learned a lot from working with Stallone
Legendary martial arts actor Matthias Hues: When you start off at a young age, it becomes your second nature
Mehriban Efendi: Sometimes its not so important to know what an artist created, feeling it just might be enough
Today.Az reports from the animal protection event held near Baku Zoo - PHOTOS
Eurovision-2010: the afterwords
INVISIBLE PEOPLE OF AZERBAIJAN - PHOTOS
Cult actor James Gaines speaks about his "Philippino action" days, shares memories - PHOTOS
Cult Hollywood actor Vernon Wells: Schwarzenegger loved pulling pranks, he was like a big kid! - PHOTOS
Cult Hollywood director shares his memories with Today.Az
Silent beauty of the Baku's Mime Theater – PHOTOS
Jesse V. Johnson: I use real soldiers, real criminals, and real strippers in my films
Canadian conflict expert Scott Taylor: US House Committee may have inadvertently set the stage for next chapter of bloodshed to begin
Azerbaijani "2010 Sony World Photography Awards" photographer speaks with Today.Az
Jalal Merhi: I met David Carradine a few months before his death
World famous artist considers Azerbaijan as part of his motherland - PHOTOS
Hollywood Legend: My fight with Clint Eastwood was the longest two-man fight scene on screen
Canadian war journalist Scott Taylor: Armenia can't move on forward with closed borders - PHOTOS
Jerry Trimble: It was a pleasure to fight Tom Cruise - PHOTOS
Tim Abell: Most heroes and villains share many of the same qualities on the screen
Damian Chapa: Everyone asks me why I did a movie about Roman Polanski
"Queen of martial arts movies" Cynthia Rothrock: I didn't like karate, it was hard for me - PHOTOS