Lost, exclusive interview with a legend of martial arts movies, Matthias Hues. The Interview was taken on 24th of March, 2009.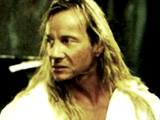 Matthias Hues was born in Frankfurt, Germany. Back in 1986 he went to Hollywood to become an actor. Soon however, his dreams were shattered - the money were short, he had to sleep in his car, and work as a bouncer in night clubs. His first movie was to become a sequel to Jean Claude Van Damme's "No Retreat, No Surrender".
Van Damme decided not to star in part 2, so the producers decided to try out Matthias instead. His final fight with Loren Avedon
at the end of the film turned out to be one of the best, most realistic and brutal on screen at that time. After the shooting was done, Hues became a bodyguard for Bob Marley's widow and her family. He did not receive another
film
offer for more than a year later - when "Fist Fighter" came up. After that, a career opportunity shined on the horizon - a sci-fi tale of alien invasion with Dolph Lundgren, called "I Come in Peace". Matthias had the main villain part.
The stereotype stick, so later on Hues became a regular in martial arts oriented films, playing mostly bad guys ("Talons of the Eagle", "TC 2000", "Fists of Iron", "Death Match"). His career also included a few sci-fi films, one of which was "Star Trek 6", and "Digital Man", where Hues played the title role. According to the fans, and experts of the 90's martial arts movies, Hues was one of the best. Now, the time has come to meet the "big, bad German", as Matthias Hues
talks about his early days, explains why sometimes movies don't get made, who is the toughest opponent, and why he and fellow action star Gary Daniels were threatened by a director…
Matthias, you seem to be in tremendous shape, as seen in your pictures from the latest movies. Do you have some special workout to follow?
Well, I just work out all the time, never skip a week in my life, only if feeling ill, or if traveling. I do however change between heavy and light weights during my training.
I've read somewhere that you have been a professional pentathlon athlete. In your movies, sometimes it shows, when you run. Heavy, big men don't usually run like that, and you do it with such grace. Please tell us about your sports career, what you started from, and how got involved into martial arts.
Yes, I love sports, and it all came from my childhood. My father used to take me to track and field when I was just 12 years old. And I just ran around the track all day, watched other athletes train, and soon started to focus on pentathlon. Weightlifting came on later, since you have to have strength for all these workouts. So, when I saw them doing kickboxing in a gym nearby, I decided to join as well. And just like that, martial arts stayed with me for the rest of my life. When you start off early, at a young age, it becomes your second nature.
How do you think economic crisis affected the movie industry? From what I know, both Hollywood and independent studios don't have much of a problem shooting more and more movies with the same money…
In fact, it's a huge problem. I got several pictures canceled, which was a real pity you know – I was training hard, was in top shape, and 3 films all got postponed. It is hard, because there's a similarity – you feel like an athlete who was preparing for an important competition, and all of a sudden it does not happen. The big studios though are still doing fine, shooting movies, and of course better than the independent studios. Many of my fellow actors along with me are in the same boat.
Who of your onscreen opponents would be toughest to beat or get into a fight with?
Billy Blanks, Gary Daniels
, and actually Don Wilson, all are hard hitters and possess great skills. Dolph Lundgren is a tough guy too, give his size and strength. And Stone Cold Steve Austin could be a real challenge, I've seen him in the gym a couple of times, he is a tough guy for sure.
You have quite a big fanbase among the Russian-speaking population. Different people prefer different movies, which one of your films do you yourself prefer?
Well, the one that quickly comes to mind is "I Come in Peace" (aka Dark Angel). I really loved doing this film. Even tried to convince studio to do a sequel. I wrote the script myself, and according to it, the action takes place in Europe… So, just have to wait and see what the studio will come up with. Dolph Lundgren will not be taking part in this project, we will take on new upcoming talents.
Your fellow action movie stars have tried out to star in a different genre, Olivier Gruner starred in a comedy "The White Pony" and Gary Daniels was in "Pocket Ninjas". In 1996 you were in a family comedy "Alone in the Woods". What was the experience like? I am sure most of your fans were quite surprised by your part.
It was all fun, I liked working on that production. It was sort of a vacation from my usual fighting movies. I would not mind doing more movies like that. Besides, I love working with kids, they always get so excited about everything!
Matthias, you have this new reality-show Star Super Bodies ready. What exactly is this project about? From what I know, you are the lead in this show.
Mostly, this is a reality show about me (playing myself), who is looking for new upcoming talent in Hollywood, just like I came here 23 years ago to try myself out. I only look in Gold's Gym ,since this is the place where I was discovered. So I try to find someone, who could become the next generation action star. So, if the show does good, we will of course continue. Plans also include doing a movie with the people I discovered during the show.
Most of those movies you've made in the 90's are considered B-action-movies. They are fast, entertaining, and don't take themselves too seriously. That's why the fans love them so much. Would you rather get a minor part in a big Hollywood blockbuster, continue being a b-movie-action star, or just participate in a project if its interesting enough?
I will do everything that's interesting enough. I love films, I write scripts in almost every genre, and of course hope to transform them into movies someday. My favourite is "Route 69", it's a story about a demented hitman, who goes on a road trip, but gets carried away a little, and later on he himself becomes the pray for one crazy village of people.
Australian based movie company "Kakadu Films" have some interesting projects lined up for production, and you are listed as their main actor. Is it going to be a series of movies? Tell us a little about your involvement with this company.
Over the next few years we plan to widen our cooperation, we have a few films lined up. I wrote some of the scripts and developed them together with my close friend. In these days of economic crisis however ,you never know what can happen, studios and produces are scared to invest their money into movies, as money you make today, can be easily lost tomorrow. Sometimes you talk about a possible movie project, and because of these financial problems the project never takes off the ground.
Your career seems to be taking a different direction right now. If back in the 90's it was all about beating the heck out of your opponents, fighting for justice and revenge, now its less hand-to-hand, and more acting. What plans does Matthias Hues have in the future, when he wont be able to fight anymore? Continue acting, directing maybe, or change of profession?
If it was up to me, I would leave all the martial arts, and combine them with great stories and acting. Producers though, they never see the real picture. They should stick to what people want and like to see, and not make us do things that are pointless. Like that movie we did with Gary Daniels ("Kiss of the Vampire", 1996). We've spent days, arguing with the director, until he started to threaten us. I mean, how stupid a scene could be…, well both me and Gary were mad, yet we couldn't do anything.
I told the director that all I need is one week with Daniels, in that warehouse, and "we will deliver you a fight like you need it". All he said was that it's a love story, not an action movie, so "take it or leave it". Later, I called the producer, and told him that they will never sell this movie. (Hues turned out to be right: the film was completed in 2006, and was released only 3 years later). So, the fans were pissed, I was receiving numerous letters every week, and I did not know what to say. I wish it was our call, at least when it comes to action movies . Believe me, I am not the only actor complaining about this, so are many many others.
T. Teymur
/Today.Az/
Click photos to enlarge:
"I Come in Peace" aka "Dark Angel" (1990)
"Digital Man" (1995)
"Cyber Vengeance" (1995)
"Age of Treason" (1993)
"Hostile Environment" (1998)
"Alone in the Woods" (1996)
"Alone in the Woods" (1996)
"Alone in the Woods" (1996)
"Suicide Ride" (1994)
"Black Belt" (1992)
"Bounty Tracker" (1992)
"Cyber Vengeance" (1995)
Artwork for "I Come in Peace" aka "Dark Angel"
Matthias on the set of "King's Guard" (2000)
"Mission of Justice" (1992)
Matthias Hues vs Bolo Yeung in "TC 2000" (1993)
"TC 2000" (1993)
Against George Rivero in "Fist Fighter" (1989)
"Kickboxer 2" (1991)
"Age of Treason" (1993), with Bryan Brown
Billy Blanks (left), Jalal Merhi (center), Matthias Hues and Bolo Yeung (right) on the set of "TC 2000" (1993)
Billy Blanks (left), Jalal Merhi (center), Matthias Hues and Bolo Yeung (right) on the set of "TC 2000" (1993)