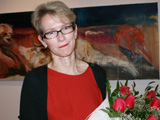 Sarah Knill-Jones is an Artist for whom the idea of the real has little to do with figurative representation, but rather, has more to do with emotional states of being and exploring inner states of mind within particular passages of time.
She explores mechanisms of the creative process and the repercussions for the bodily influenced gesture with regards to painting, and the role of the conscious/unconscious thought within that process. By examining ideas of spectator manipulation and experience of a work, she defends painting to be as much of an interactive experience as any other medium, and therefore retaining a potency and relevance.
Her "Perceptions" exhibition opened in Baku on 2nd of December, and will end tomorrow. The exhibition is being hosted in the MiM Centre of Contemporary Art in Azerbaijani capital. Below are some photos from the exhibition.
Click photos to enlarge:
Photos: /Citylife.az/