Andres Herkel and Tony Lloyd, PACE Monitoring Committee co-rapporteurs for Azerbaijan held press conference on the results of their visit to the country.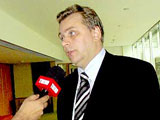 Andres Herkel said that they worked hard during four-day visit to the country and will include the issues concerning the duties taken up before PACE in their report. "We are working out report on the result of our visit to Azerbaijan. It will be confidential. While visiting Guba and observed no national minority problem in Azerbaijan. Justice Ministry took positive steps for improving the number and professionalism of lawyers and judges. The press suffers most from the non-professionalism of justice officers," he said.
Herkel also touched upon the amendments to Election Code and reorganization of Election Commissions' staff. "We want opposition and power parties to be equally represented in the commissions. This is an old problem and we wish it to be solved soon," he said.
The co-rapporteurs also raised the problem of tortures of political prisoners. "We got the information about tortures of political prisoners from NGOs. It is evident that they undergo tortures. It happens mostly in police stations," Herkel said.
Tony Lloyd, the other co-rapporteur PACE is interested in supremacy of law in Azerbaijan.
"Azerbaijan needs independent court for it. Your court institutions are weak. There are corruption cases and interference of outside forces. Azerbaijan society and international community cannot believe the decisions made by these courts. In this case the most important cases should be presented to European Court. There is no freedom of assembly and press in Azerbaijan. You should stop this," he said.
The co-rapporteurs said that they also met with Nushirevan Meherremly, NTRC chief during their visit and discussed the problem caused by the broadcasting of foreign TV channels in the frequency of local channels. They also expressed their confidence that the license problem of ANS will be solved legally, APA reports.