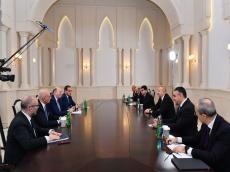 Azerbaijani President Ilham Aliyev has received Italian Environment and Energy Security Minister Gilberto Pichetto Fratin, who attended the 9th Southern Gas Corridor Advisory Council Ministerial Meeting and 1st Green Energy Advisory Council Ministerial Meeting in Baku.
The head of state recalled his state visit to Italy in 2020, as well as an official visit in September of last year, noting that he was pleased to meet with the President of Italy and other high-ranking officials. President Ilham Aliyev stated that based on the signed documents, the cooperation between Azerbaijan and Italy was developing in the spirit of strategic partnership, adding that the political dialogue between the two countries was at a high level.
It was noted that cooperation between Italy and Azerbaijan covered not only the energy field, but also a broad range of issues, in particular cooperation in the field of science and education. It was mentioned that in accordance with the document signed between ADA University and Italian universities, the opening of the Italy-Azerbaijan University in Baku was of great importance.
The sides also emphasized that Italian companies were actively working in the liberated territories of Azerbaijan. It was pointed out that cooperation between Azerbaijan and Italy was developing in all fields on the basis of friendship and mutual understanding. The importance of the TAP project, which is an important component of energy cooperation between the two countries, was also highlighted.
The Italian minister, for his part, expressed his gratitude for the meeting and noted the importance of the discussions being held as part of the ministerial meeting of the Southern Gas Corridor Advisory Council. The minister emphasized that the relations between the two countries were of the nature of strategic partnership, noting that Azerbaijan was playing an important part in the energy security of Italy.
Gilberto Pichetto Fratin noted the importance of increasing the capacity of the TAP project in the near future, stating that Italy was interested in increasing gas imports from Azerbaijan. The minister said that Azerbaijan had great renewable energy potential and pointed out that Italian companies intended to cooperate with Azerbaijan in this field in the future.
The sides also exchanged views on other issues of mutual interest.