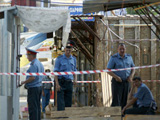 At least one person died and 4 were wounded as a result of a shootout in Tyumen's "Kolco" horticultural market.
The conflict occurred between market's workers and truckman. Several people joined the scuffle started by 2 persons.
The shootout took place, one person was wounded in the head. This person died at the hospital. 4 persons were wounded, the state of 4 of them was reported serious.
According to the preliminary information, the deceased during the shootout is an Azerbaijani citizen. 2 "Sayga" and "Vepr" hunting carbines, traumatic pistol and 3 knives were seized from the site. The shootout participant were arrested, the search of one person is continued.
/
APA
/