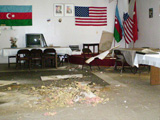 Hurricane Irene seriously damaged the building of New-York-based Azerbaijan-American Society (AAS). turkishny.com reports.
AAS chairwoman Tomris Azeri said they couldn't come to office for several days because roads were flooded. "When we entered the office we saw that our society faced with serious material damages and the office became worthless".
Azeri said they would do best to restore the office. "Azerbaijani flag hanging on the wall will always be there".
AAS building was purchased by the first wave of Azerbaijanis migrating to the United States and it has symbolic character for many Azerbaijanis living there.
/
APA
/