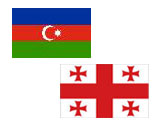 Ukraine will host a forum dedicated to the problems of Georgian Azerbaijanis, the Congress of Azerbaijanis in Georgia (CAG) said. The agreement on holding the forum was achieved at the CAG leader's meeting with the head of the international public association "Pulse of Democracy" operating in Ukraine.
"The forum will mull the report prepared by the CAG on the current situation and the urgent problems of Azerbaijanis living in Georgia. The forum will invite the ambassadors, representatives of Georgia and Azerbaijan, international organizations and the media outlets. When the existing problems are submitted for public discussion, it is possible to find a quick solution," the Congress reported.
During the meeting, CAG Leader Ali Babayev noted serious problems in protecting the rights of the Georgian Azerbaijanis.
"The constitutional rights of more than 1,500 Azerbaijanis are violated. But, the Azerbaijanis' offenses mostly related to their basic legal illiteracy. The congress has published various booklets relating to education in the field of human rights to solve this problem. The congress plans to translate the Tax Code recently adopted in Georgia into the Azerbaijani language," Babayev said.
"Pulse of Democracy" Head Hikmet Javadov spoke about the organization he led. He said the organization was established in 2005 by community leaders of Azerbaijan and Ukraine.
"The main objectives of the organization is to reach the maximum open dialogue between Azerbaijan and Ukraine and assist to further deepen cooperation in economic, political and cultural spheres, as well as to promote the deepening of bilateral relations," Javadov said.
He said one of the main goals of the organization is to acquaint the world with the problems of the Azerbaijani Diaspora.
"The international public association "Pulse of Democracy" publishes the newspaper "The word of Azerbaijan. The first issue has already published. We plan to devote the second issue of the publication to the Georgian Azerbaijanis. The main purpose of our Georgia visit is to visit the regions populated by Azerbaijanis and study their living conditions, problems, " Javadov said.
/Trend/