On March 21, 2010, the Azerbaijan Trade and Cultural Center (ATCC) organized a Novruz holiday celebration to welcome the long-awaited spring.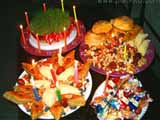 More than 200 Azerbaijanis and their friends gathered together in the historic Glenview Mansion in Rockville, Md., to celebrate the coming of spring and its refreshing spirit of hope and renewal. The guests sampled delicious Azerbaijani cuisine and handmade Novruz pastries, meeting up with old friends and making new ones while celebrating this age-old holiday.
The festivities featured traditional Azerbaijani dances, outdoor activities and well-liked, time-honored Novruz customs.
Nazrin Garibova, a young Azerbaijani community member, performed a "Semeni" dance, which was greatly enjoyed by the guests. In addition, the well-known Silk Road Dance Company performed exquisite Azerbaijani dances, such as "Nelbeki," "Sari Gelin," and "Desmal," to thunderous applause. At the end of their performances, the dancers led the guests outside to carry out the bonfire jumping ritual. According to ancient Zoroastrians, jumping over a flaming fire and singing a song allows the previous year's grievances to burn in the fire and provides a good start to a new year free from bad energy.
Another highlight of the holiday celebration was the traditional egg-fighting competition. Ten participants' names were drawn from out of a box, and the participants were divided into five teams of two. Using hard-boiled, colored eggs, the pairs attempted to crack their opponents' eggs while keeping their own eggs intact. The winner received an iPod Nano.
Toward the end of the event, DJ Dariush mixed national Azerbaijani and oriental music, creating a rich musical atmosphere in which guests could easily relax and enjoy themselves.
The holiday celebration was greatly enjoyed by all of the guests, especially the children. One of the attendants, Zumrud Ibrahim, said, "I would like to thank the USACC team for organizing a wonderful 'Novruz Bayram' event. Everything was lovely and I think everybody had fun, especially the kids; my little son really enjoyed himself."
Aflatun Mirza, an Azerbaijani American from North Potomac, Md., echoed Ms. Ibrahim's sentiments. "The Novruz celebration was such an enjoyable event," he said. "My entire family had a wonderful time."
Celebrated to welcome the arrival of spring, Novruz is one of the most beloved and colorful holidays in Azerbaijan. Meaning "new day" in Persian, Novruz marks the beginning of the year for people in Azerbaijan, Iran, Tajikistan, Afghanistan and other common cultural heritage countries. Novruz has been celebrated for at least 3,000 years and is rooted in the ancient traditions of the Zoroastrian belief system. On February 23, 2010, the United Nations General Assembly recognized March 21 as International Day of Novruz.
The Azerbaijan Trade and Cultural Center (ATCC) was founded by the U.S. Azerbaijan Chamber of Commerce in September 2000 to promote mutual understanding and cooperation between the United States and the Republic of Azerbaijan.
/Today.Az/
Click photos to enlarge:
Photos: USACC.org