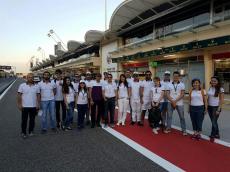 Twenty eight representatives of the Baku Marshals Club (BMC) functioning under the banner of Baku City Circuit visited Bahrain between November 15 and 20.
During the visit, the club's members got acquainted with the Bahrain International Circuit and its Race Center and also participated in the six-hour 2016 FIA World Endurance Championship race taking place there.
Chingiz Mehtiyev, Head of BMC and leader of the delegation, highlighted the importance of cooperation with the Bahrain Motorsport Federation and the Bahrain Marshals Club.
"This is our third visit to Bahrain International Circuit which has hosted a number of international motorsport competitions over the last 10 years. Bahrain Marshals are very experinced and keen to share their knowledge and skills with our marshals. As a result, BMC members have already gained some great experience and were able to successfully complete thier duties along with Bahrain colleagues at the 2016 World Endurance Championship".
For more information, please contact Baku Marshals Club or visit following link: https://www.bakucitycircuit.com/az/haqqimizda/marsallar