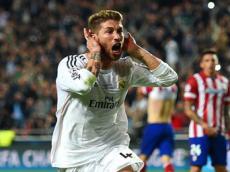 Sergio Ramos soared through the air and made perfect contact with a ball that he couldn't have placed any better. His miracle goal on 93 minutes in the Champions League final gave Real all the momentum going into extra time. Through doing so, he became the latest in a long line of Real Madrid superheroes.
Rial (1956) - Real Madrid 4-3 Stade Reims
Real were playing catch up for almost the whole game in the first ever European Cup final. The dual nationality Spanish-Argentine player eventually scored the goal that completed the come back over the French side on 80 minutes. That goal was the start of a golden era.
Gento (1957 and 1958) - Real 2-0 Fiorentina and Real 3-2 Milan
The speedy left winger was the standout performer in Madrid's second and third European triumphs. He made it 2-0 and settled the nerves in the Fiorentina game with a magnificent lob, but the decider he got in injury time against Milan the following year was even more glorious.
Di Stéfano (1959) - Real Madrid 2-0 Stade Reims
Up against Stade Reims once again, Di Stéfano settled the game early in the second half, after his teammate Mateos had opened the scoring.

Puskas (1960) - Real Madrid 7-3 Eintracht Frankfurt
Real Madrid blew the opposition away in this one. Di Stéfano scored three goals in the most famous final of all, but Puskas, who had dual Hungarian-Spanish nationality, stole the show with four.
Serena (1966) - Partizan 1-2 Real Madrid
Another comeback. The Serbs took the lead at the Heysel stadium in Brussels, but Amanció drew level and Serena got the all-important winner to claim the last European Cup won by Real Madrid's 'Yé-yé' generation.
Mijatovic (1998) - Real Madrid 1-0 Juventus
This final came after a long trophy drought in the European cup. Mijatovic put the sword to a fantastic Juve side who were the big favourites at the time. On the 66th minute he sidestepped Peruzzi and sent the Madrid fans wild.
Raúl (2000) - Real Madrid 3-0 Valencia
Real were also the underdogs in this one, but it ended up being a veritable footballing exhibition from an inspired Madrid side, led by Raúl.
Zidane (2002) - Real Madrid 2-1 Bayer Leverkusen
The Frenchman scored one of the most spectacular goals in the history of the Champions League in Glasgow. The game was level at one apiece when he hammered home an absolutely unbelievable volley.

/Marca/