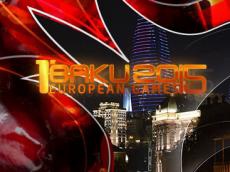 Simon Clegg, the former Chief Executive of the British Olympic Association and Ipswich Town Football Club, has today been appointed as Chief Operating Officer of the Baku 2015 European Games Operating Committee (BEGOC). His appointment follows the recent departure of Chief Operating Officer Jim Scherr.
Europe's first senior multi-sport event will consist of more than 6,000 athletes competing in 19 sports from the 49 countries affiliated to the European Olympic Committees (EOC). New state-of-the-art sporting facilities being constructed for the event include the 65,000 seat National Stadium, the National Gymnastics Arena (completed to host next month's European Rhythmic Gymnastics Championships), as well as aquatics and shooting centres. More than 9,000 athletes and officials will be accommodated in the Athletes Village which is located within walking distance of the National Stadium.
Clegg, who is presently the European Games Executive Director for the event's rights holder the EOC, will relocate to Baku this week. He will cancel all other consultancy contracts presently undertaken through his management company Zeus International Management. Clegg's previous experience includes managing Team GB athletes at 12 Olympic and Olympic Winter Games, Chief Executive of the European Youth Olympic Festival in Bath (the largest international multi-sport youth event ever staged in the UK) and being an IOC appointed expert on the Athens 2004 Operational Working Party. Clegg also led the political and PR campaigns to persuade the British Government and Mayor of London to bid for the 2012 Olympic Games before becoming a bid director and subsequently joining the board of London Organising Committee of the Olympic Games as director.
Commenting on the appointment, Azad Rahimov, Azerbaijan's Minister of Youth and Sport and BEGOC's Chief Executive said: "I am delighted that Simon has agreed to take up this new role. He has the right skill set and experience to lead the organisation as we move from a planning phase into operational delivery mode with just 14 months until the Opening Ceremony. We have enjoyed a close working relationship over the last nine months when he has been representing the European Olympic Committees and I have every confidence that together we will deliver a magnificent event for the best athletes in Europe."
Patrick Hickey, the President of the European Olympic Committees said: "Simon has made a major contribution to the successful delivery of the inaugural European Games over the last nine months that he has been our Executive Director. His in-depth knowledge and understandings of the Organising Committee functions coupled with his leadership and management expertise made him an obvious choice for this new top position in European Sport. We look forward to continuing to work with Simon to ensure that we can deliver an exciting and innovative event for the top athletes from our continent. The real legacy of a successful Baku 2015 will be sustainable model for future editions of the European Games."
Simon Clegg said: "I am flattered to have been invited by the Minister of Youth and Sport to take up this new role within the Operating Committee. There is an outstanding existing team within BEGOC many of whom I have worked with over the last nine months and I know that together we can deliver an event which the Azerbaijani people, the European Olympic Family and most importantly the athletes of Europe can be proud of. Any inaugural event creates exciting opportunity to establish something different and our desire is to establish the European Games in Baku at the forefront of continental sporting events around the globe."


***
11:52
After leading the delivery of a positive update at the recent Third European Olympic Committees (EOC) Coordination Commission, it has today been announced Chief Operating Officer of the Baku 2015 European Games, Jim Scherr, has taken the decision to leave his position and return to the United States.
Scherr led the organisation for 12 months, during which time he put in place the planning and organisational structures required to deliver an innovative and athlete focused inaugural European Games.
Jim Scherr said: "I'm in no doubt that I leave the organisation in a fantastic position to deliver a successful European Games in Baku next summer. After another positive update at the recent Coordination Commission, I feel it is the right time to return to the United States to spend more time with my young family and resume my position as Chief Executive of 776 Marketing, the consulting, events and marketing company I founded.
"I wish to thank First Lady of Azerbaijan, Mehriban Aliyeva, and the Minister of Youth and Sport, Azad Rahimov for their support during my time in Baku and am sure they, along with the extremely talented and professional team we have put in place, will deliver an event that Azerbaijan and the rest of Europe will be proud of."
Patrick Hickey, President of the European Olympic Committees, said: "We are all incredibly grateful for Jim's leadership during his time as Chief Operating Officer of Baku 2015 European Games. His endeavour has put the Games in a position to meet the EOC's vision to create an innovative and athlete focused Games built on a sustainable model. We wish him the best of luck for the future."
Minister Azad Rahimov, CEO of Baku 2015 Operating Committee, Minister of Youth and Sport for Azerbaijan, said: "I want to thank Jim for the expertise, passion and leadership he has shown during his time in Baku. With his guidance, we have made great progress and he has played an integral role in helping to shape the First European Games. We now look forward to the next stage of our preparations as we look to put on a spectacular inaugural European Games next year."
The largest multi-sport event in the history of Azerbaijan will involve more than 6,000 European athletes competing across 19 sports.
Baku is investing in 20 major new and refurbished competition venues, providing iconic locations and world-class facilities for the athletes of Europe and young people in Azerbaijan, and a new world class sporting centre for the NOCs and athletes of Europe and beyond for decades to come.
Baku 2015 European Games has appointed a successor to Jim Scherr and this will be formally announced at 1230 (Local time) on 28th April 2014.

/Trend/