The third case of H1N1 virus has been registered in Georgia, Minister of Health and Social Care Sandro Kvitashvili announced at the special briefing today.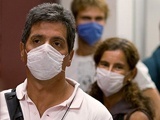 The Minister said the society has no grounds for panic because the ministry has the medications necessary for treating the disease.
The first two cases of the disease registered in Georgia were discovered few weeks ago. Women who traveled from London were infected with the disease, but they are safe today.
/Georgia Times/