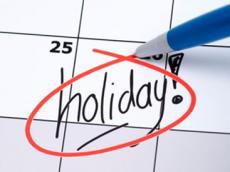 Translated by Mushvig Mehdiyev
Three days of the next week will be non-working, the head of the press-service of the Cabinet of Minister Akif Ali told
Anspress,
says
Milli.Az
According o him, as May 9 is celebrated as Victory Day, it will be non-working day. As well as, May 10-11 fall on a weekend. So, next week will have its three days off-hour.
Note that on May 1945 the announcer of USSR's central radio Yuri Levitan read the act about the full surrender of the fascist Germany and end of the Grat Patriotic War.
Azerbaijan sent 600 000 boys and girls to the front line during the war period. 300 000 of them have bravely lost their lives there in the fornt line.