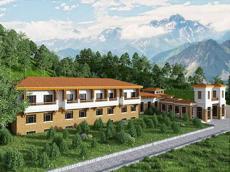 The construction of a large leisure complex 'Markhal' is currently being carried out in Azerbaijan's Sheki city.  
Baku State Project Institute informed on the matter.
According to the information, the complex holds 30 hectares total area. It is built on mountains, in a woody area. Authors of the project tried to provide maximum protection for the environment, underlined the institute.
All important facilities and engineering structures – 7-storey hotel with basement, restaurant, SPA center, two amusement and shopping centers, cafe, open-air theater, as well as registration and service buildings, 16 cottages with 3-4 rooms – have been designed for comfortable and universal relaxation of the guests of complex. 
Furthermore, open-air sport squares for playing volleyball, basketball, mini-football and tennis are envisaged along with the leisure corner, pool and fountains within the project. Lake locating in the territory of the complex will be landscaped for water entertainment. Pier and cafe are going to be built over the lake.
Number of service buildings have been projected for the normal functioning of the complex, as well. Drinkable water reservoirs, fire prevention and water treatment buildings, pump stations, 4 boilers, transformer substation and outdoor parking lot include the project.
Main construction-montage work have already been done told the institute. No information provided on the date of construction completion in the complex.
Outdoor center
Cafe
Cottages
Restaurant
SPA center
Registration and service buildings

Amusement center

/Day.Az/