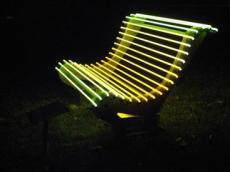 There will be installed light emitting benches in Baku.
News benches, which will emit light in dark hours, will be set in Baku soon.
Luxurious parks of the city will be more beautiful due to these unusual benches.
Lifetime of these antibacterial benches is 25 years. Their metal part is made of stainless steel. Benches are resistant to environmental influences.  
Note that along with the benches, glowing in the night tables, bus stops etc. will be delivered to Azerbaijan.
/Milli.Az/