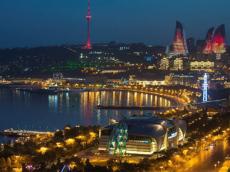 The 1st International Scientific Conference of Young Researchers will be held on April 26-27, 2013. The conference aims to get young people more interested in science, to bring together young researchers and scientists from various universities, centers, and institutions, to share their experiences with others, to analyze the problems they face, to discuss the common problems and provide opportunity to put forward proposals.
Section 1 includes: finance, economics, management, state and Municipal Administration, industrial Management and Administration, accounting and auditing, international Relations, history and political science and law.
Section 2: technical and natural science, information and communication technologies, mechanical engineering and chemical engineering.
Section 3: pedagogic, philology and contemporary Issues of interpreting.
If you want to participate in the conference, please, send us abstract of your article by e-mail. This is due on 20 February 2013. Abstract must be 500-700 words long, in Microsoft Word format, and sent to
section1@qu.edu.az
section2@qu.edu.az
section3@qu.edu.az
regarding its respective section. Information regarding the acceptance of the abstracts will be given on March 15th, 2013. The one who wants to publish his or her article on a book supposed to send article not later than April 01, 2013 to respective emails. The articles chosen by Scientific Staff will be published on "Journal of Qafqaz University".
Address: Qafqaz University, Baku-Sumqayit Road 16-km Khirdalan, Baku AZ0101, AZERBAIJAN
Telephone: (+994)124482862-66
Fakh: (+994)124482861-67
E-mail: section1@qu.edu.az, section2@qu.edu.az, section3@qu.edu.az
Web address: http://qu.edu.az/content.php?link=503&lang=en
/AzerTAc/