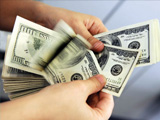 Do you set goals? Some people swear by it, others hate it. But the important question is: does goal-setting work for bloggers?
It depends on whether you set static goals or dynamic goals. Static goals sap motivation. Static goals are focused on outcomes that are outside of your control.
Many people tend to think in terms of static goals. For example, a popular goal is:
"I want to earn a thousand dollars a month by the end of the year." 
That's a static goal. It doesn't work.
Let's take a close look at why static goals don't work.
Imagine sitting at home, looking at a map. You point to a mountain peak and say, "In four hours from now I want to be up there." Then you sit down and drink a cup of coffee. You look out of the window, but the view is still the same. Four hours go by. You employ all the techniques you've learned about setting goals: you visualize the view from the peak, tack pictures of mountain views to your wall, and listen to motivational podcasts.
But it is all in vain. When you look out of the window after four hours, you still look on to the same busy street and haven't any got closer to your goal.
See what was missing: it was the action of putting one foot in front of the other. Dynamic goals, on the other hand, are action-focused.
Dynamic goals are internally derived, action-focused, and firmly within your control
Let's take the same scenario. You see a peak on a mountain range that you want to climb. Your dynamic goals would include scoping the tour, packing safety gear, and finally putting one foot in front of the other. OK, so let's take a look at how setting dynamic goals can help you on your
blogging
journey.
How dynamic goals make your blog grow
Let's say that you want to create dynamic goals in order to grow your blog. The first thing you need to take into account is lag time.
Remember, results lag behind actions.
In order to be successful, you have to put effort into a project – but you won't see the result of your work until much later.
It's like seeing a plant that has shot up overnight in spring. During the winter, the seed sprouted, grew strong roots, pushed its way toward the surface – and all of this activity was invisible from above. It looked like nothing was happening.
It's the same principle when you create a blog.
If you want to make your blog grow big, you need to set and follow seven crucial dynamic goals:
Seven dynamic weekly goals that will skyrocket your subscriber count
Goal #1:
Publish at least two good, useful posts on your blog. Your content needs to be not only good, but remarkable. Most importantly, content needs to be focused on what your readers want and need.
Goal #2:
Answer all comments on your blog. In order to grow a big blog, you need to create a tribe. Answering all comments on your blog will create a sense of community.
Goal #3:
Write three thoughtful comments on related blogs. It's important to establish yourself as a go-to person for the topic you're blogging about. Helpful comments lift your profile and create connection with other bloggers.
Goal #4:
Find one new blog in your niche. It's important to create a network of bloggers who are part of your niche. Take time to discover at least one new related blog each week.
Goal #5:
Contact one blogger each week on Social Media or by email to compliment them on a particular post, or ask a question related to a post or product.
It's important to make contact with fellow bloggers. Just make sure that your appreciation is heartfelt. The connections you make will help your blog grow.
Goal #6:
Write one guest post per week and pitch it to a blogger you've previously contacted. If you write one guest post per week, it will draw new readers to your blog. Make sure you don't pitch the blogger out of the blue, though. It's important to create a connection first.
Goal #7:
Use Twitter, FB, or Google+ at least four time a week to promote your posts or make contact with readers or bloggers. Social Media is a good way to broadcast your blog's message and strengthen your blog's brand.
As you can see, these goals are action-based (dynamic) and not outcome-focuses (static). You can determine the outcome by changing the variables. Double each goal – and your subscriber count will skyrocket. Lengthen the time-frame – and your blog will grow at a more sedate pace.
Dynamic goals are entirely within your control.
Just remember that lag-time is always part of the picture too. If you start setting and fulfilling dynamic goals, you won't notice much difference at first. But you'll be building momentum. Once you get momentum going, you'll be inspired to set more dynamic goals – and your blog with thrive.
/Daily Blog Tips/