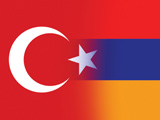 A part of the Armenian Music and Science Library in Yerevan, home to the some of the world's most priceless musical notes, documents, manuscripts and gramophone recordings, is dedicated to maintaining a Turkish and Azeri music archive. Museum director Gulo Nahadakyan has called on Turkey to help maintain the archive. 'The language of music is universal. We want to meet with you in the universal denominator,' she says.
A treasured history of Turkish music is housed in the Armenian Music and Science Library, located a few kilometers away from the center of the Armenian capital, which maintains an archive of world music.
Besides maintaining recordings of the usual international names in music, from Beethoven to Mozart, and to Armenian music's best-known figures such as Gomidas and Khacaduryan, and tens of thousands of documents, manuscripts, musical notes, gramophone recordings and some famous composers' private correspondence, an archive of Turkish classical and pop music is kept in a special room in the library, which also features an impressive collection of Azeri music. It is almost impossible to find such a comprehensive archive in Turkey.
The museum's director, Gulo Nahadakyan, told the Hürriyet Daily News & Economic Review the reason for maintaining the archive was to preserve especially regional music, because music transcends geography and politics. "Turkey and Azerbaijan are our neighbors. Moreover, art does not have a religion and language. Music is universal," Nahadakyan said, adding that her biggest wish is to collaborate with a Turkish organization and university working in the field of music in order to safeguard the archive.
Dilapidated conditions and a lack of funds
Unfortunately, the library, which accommodates hundreds of years' worth of world music history, has been severely neglected and some of the documents in the archive are kept in dust and dirt because of a lack of funds. Nahadakyan said the archive is deprived of financial support and has severe economic problems.
"If these documents belonged to another country, they would have been kept like priceless treasures. But unfortunately, this is our situation," said Nahadakyan, adding that the condition of the building was far from secure. "People are not aware of the riches here. If they knew, they would steal everything in one night," she said.
The museum employs 36 expert staff, almost 90 percent of whom are women. Nahadakyan said the reason why it is mostly women who work in the museum is again one of funding. "The maximum amount of money we can pay is $30 dollars a month. A man cannot support a family with this money."
Nilufer moves the library to tears
The room where the Turkish and Azeri collections are kept is full of gramophone recordings. A Turkish music expert who simply calls herself Ruzan said they had transferred the collection of gramophone recordings onto CD over the last few years in order to make things easy for researchers. "In this way, we try to protect gramophone recordings as much as possible. Researchers can take them home, which makes things easier for them," she said.
Yet one day, as a surprise, Ruzan and her friends brought a record player to the library one day and played a record of renowned Turkish pop singer Nilüfer. The Turkish singer's voice echoed around the library on the other side of the closed border and everyone in the room was moved to tears, she said. The name of the song was "Taa Uzak Yollardan" (From Very Far Roads). Nilüfer is the most beloved Turkish pop singer among the women working in the library, Ruzan said.
She added that recordings by many famous artists who have left their mark on Turkish and Azeri music are kept in the Turkish and Azeri music archive room.
Nahakdakyan said that all documents in the library are the common heritage of mankind and required support, calling on Turkey to contribute to the archive. "The language of music is universal. We want to meet with you in the universal denominator. Let's collaborate. Our doors and archives are open to you," she said.
/Hurriyet Daily News/