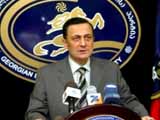 In connection with the statement made by Georgian President Mihail Saakashvili last week in London, the Labor Party leader Shalva Natelashvili apologized to the French people. As he said to today's press conference, with the assistance of the Britain reactionary circles, Saakashvili called French President Nicolas Sarkozy bribetaker and partner of Russian conquest plan because of the sale of Mistral warship to Russia by France.
"This is the culmination of the pathological adventurism and an attempt to shift crimes onto others. France president and foreign minister exactly were with us in the most difficult moments right on the front line, from where Michail Saakashvili escaped," said the Labor Party leader.
The Georgian people remember well the fact that when Britain abandoned the Georgian government together with the treasures, sheltered France in 1921. "We apologize to the Government of France, the French people for Saakashvili's irresponsible statement and once again thank the supreme leadership of France for supporting us," said Natelashvili.
In his irresponsible statement, he also accused the British Foreign Minister and said that David Miliband is neither worth of his post nor the Labor Party leadership.
/Trend News/