On Jan. 15, Armenian Parliament Speaker Hovik Abrahamyan signed a decree approving Armenian delegation members to PACE.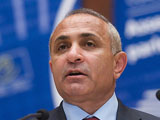 Abrahamyan delisted oppositional Heritage party member Zaruhi Postanjyan.
Heritage parliamentary faction leader Stepan Safaryan considers Speaker's decision illegal, saying that the latter violated Armenian law and PACE regulations.
"We will revert to this illegal act, but prior to that we demand to present the protocol of the convened session, as well as procedure for the creation and activity of the parliament's delegation in the international parliamentary organizations and intergovernmental commissions," said Safaryan appealing to the speaker.
/News.am/