Turkey summoned Israel envoy to Ankara over "insult" to Turkish envoy in Israel.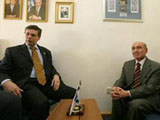 The Turkish Foreign Ministry on Tuesday summoned Israeli Ambassador Gabi Levy over "insult" to Turkish envoy in Israel.
Deputy Foreign Minister Danny Ayalon summoned the Turkish ambassador in Israel regarding a popular television series.
Anadolu news agency said, "At a meeting with Foreign Ministry Undersecretary Feridun Sinirlioglu, Israeli envoy Gabby Levy was asked about recent statement issued by Israeli Foreign Ministry that strongly criticized Turkish Prime Minister Recep Tayyip Erdogan after his remarks over Israeli offensive against Gaza."
It said, "Turkish diplomats also expressed uneasiness over media reports after Turkish Ambassador in Tel Aviv Oguz Celikkol's meeting with Israeli Deputy Foreign Minister Danny Ayalon and also the statement made by Israeli Foreign Ministry Spokesperson Yossi Levy."
On Monday, Israeli Foreign Ministry expressed uneasiness over a popular Turkish TV series, "Kurtlar Vadisi" (The Valley of The Wolves), through diplomatic channels. Turkish Ambassador Celikkol was summoned to Israeli Foreign Ministry.
"During the meeting, Turkey's ambassador was seated in a low sofa, and facing him, in higher chairs, were Ayalon and two other officials - an arrangement carried out at Lieberman's orders," Israel media said.
A photo-op was held at the start of the meeting.
"Ayalon told the photographers in Hebrew: "Pay attention that he is sitting in a lower chair and we are in the higher ones, that there is only an Israeli flag on the table and that we are not smiling," the Ynet report said.
At a meeting with Lebanese Prime Minister Saad Hariri the same day in Ankara, Turkish Prime Minister Recep Tayyip Erdogan criticized Israel for its offensive against Gaza and for violating UN resolutions. He said Israel never denied that it possessed nuclear weapons, calling on the five permanent members of the UN security Council to be fair, and follow up on nuclear weapons of Israel, just like they did with Iran.
In response to Erdogan's remarks, Israeli Foreign Ministry said in a statement, "Turks are the last who can preach morality to the State of Israel and the Israel Defence Force (military)."
However, Israel media commented over the insult that, "Foreign Minister Avigdor Lieberman is trying to foil the scheduled visit of Defense Minister Ehud Barak to Ankara."
Barak is scheduled to travel to Turkey on Sunday for an official visit in which he will meet with Turkey's defense and foreign ministers.
/World Bulletin/