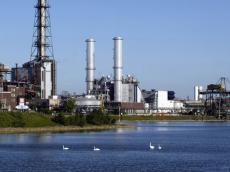 By Azernews
By Kamila Aliyeva
Uzbekistan, a Central Asian nation which enjoys vast potential in energy sources, aims to further develop its power sector due to rising demand in electricity.
Uzbek President Shavkat Mirziyoyev signed a resolution, according to which measures to implement the investment project entitled "Construction of two combined-cycle units with a capacity of 230-280 MW at Takhiatash Thermal Power Plant (TPP)" were taken, norma.uz reported.
The resolution resolved a number of organizational issues.
The project participants are granted tax and customs privileges and preferences, which are considered as the contribution of the state in the project implementation.
Takhiatash TPP with installed capacity of 730 MW was built in 1974. The project worth $678.2 million includes the construction of two combined cycle gas turbine units with a capacity of 230-280 megawatts each with the decommissioning of three old blocks of the thermal power plants and keeping two energy blocks as the reserve ones.
Thanks to this, the plant capacity will increase from 730 megawatts up to 930 megawatts, the electricity output will increase by 1.7 times, up to 5.4 billion kilowatt hours. In addition, the annual savings of natural gas will amount to 488.6 million cubic meters.
A feasibility study of the investment project was approved in 2015. The project will be financed by the Asian Development Bank's (ADB) loan worth $300 million, issued for Uzbekistan in September 2014, Uzbekistan Reconstruction and Development Fund's loan worth $230.7 million and Uzbekenergo's own funds.
Uzbekenergo, which unites enterprises of Uzbekistan's power industry, and a consortium of contractors headed by Hyundai Engineering (South Korea) signed a contract for the delivery of equipment and construction of two combined-cycle gas turbine units at Takhiatash thermal power plant in Uzbek Karakalpakstan. The total cost of the contract taking into account the subsequent optimization amounted to 103.96 million euros and $318.1 million.
The power plant provides electricity to the northwest of the country - Karakalpakstan and Khorezm region. The reconstruction Takhiatash TPP is associated with the increased need from electricity and gas companies expanding their operations in the development of the field on the Ustyurt plateau.
Uzbekistan is the largest electricity producer in Central Asia. Total installed capacity of Uzbekistan's power plants exceeds 12.4 GW. Twelve thermal power plants, with a combined capacity of over 10.7 GW, and 31 hydro power plants, with a combined capacity of 1.7 GW, belonging to the Uzbekenergo, the Ministry of Agriculture and Water Resources, the Mining and Metallurgical Company Almalyk and the Uzkhimprom Association, constitute the backbone of the electricity sector.