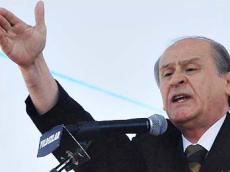 Turkey's opposition party leader Devlet Bahceli has said democracy necessitates Prime Minister Recep Tayyip Erdogan should quit his post as he is running in next month's presidential election Anadolu Agency reported
The comments on Saturday by Bahceli, the head of the the Nationalist Movement Party, came five days after Erdogan declared his candidacy for the polls on August 10-- the first time in Turkey that a president will be chosen by popular vote.
Speaking at a press conference at the his party's headquarters, Bahceli said: "Remaining in office on one hand and being a presidential candidate on the other is a preparation for suppressing the separation of powers."
The choice of Erdogan as a nominee by the ruling Justice and Development (AK) Party had been seen as a near-certainty, while the 71-year-old former head of the Organization for Islamic Cooperation, Ekmeleddin Ihsanoglu, has been chosen as candidate by the two opposition parties, the Republican People's Party and the Nationalist Movement Party.
Referring to the candidate of the People's Democracy Party, the 41-year-old co-chairman of the party, Selahattin Demirtas, Bahceli said: "His candidacy is unlawful, since he bears a grudge against Turkey as a republic, an entity and in terms of its unity."
Demirtas was elected to the Turkish parliament in the 2007 elections, but was sentenced to 10 months in prison in 2010 for alleged links to the outlawed Kurdistan Workers' Party, or PKK, which is listed as a terrorist organization by Turkey as well as the U.S. and the European Union.
Turkish citizens go to the polls on August 10 to vote for the 12th president of the country.
It will be the first time voters have directly elected a president, as the office was previously elected by assembly lawmakers.
The public campaign will continue until August 9.
Should none of the candidates takes more than 50 per cent and a second round takes place on August 24, the campaigns will be extended between 11 and 23 August.

/Trend/