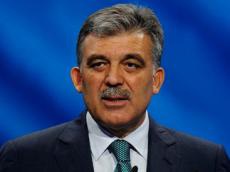 Turkey fully supports Ukraine's territorial integrity, Turkish President Abdullah Gul said in Ankara during a joint press conference with Polish President Bronislaw Komorowski, TRT Haber TV channel reported on March 5.
Turkish Foreign Minister Ahmet Davutoglu said on March 5 that the Crimean Tatars who live in Ukraine should know that they are not alone in this situation.
Security of the Crimean Tatars is of major concern to Ankara, the Turkish foreign minister said. Turkey fears ethnic clashes could break out in the Crimea. Davutoglu added that the situation in Crimea will also be discussed during a meeting with Russian foreign minister in Rome on March 6.
The Turkish foreign minister met with representatives of Crimean Tatars associations.
"We will be the first to help Crimea - the relic left by our ancestors," the minister said pointing out the importance of maintaining the unity and integrity of Ukraine, as well as the equality of citizens in this country.
During an extraordinary meeting held at the foreign ministry in Ankara, which lasted over three hours Turkish Prime Minister Recep Tayyip Erdogan asked his government to take all the necessary measures regarding the current events in Crimea, said Davutoglu.
Additionally, the foreign minister said that mass protests in Ukraine began on November 21, 2013, when the government announced the suspension of the preparation of the Association Agreement with the EU. As a result, President Yanukovych was ousted on Feb. 22. Verkhovna Rada approved the new government which is preparing for early elections.
On Feb.26 several thousand people participating in two rallies gathered in front of the Supreme Council of Crimea. Following the escalation of the protests in Crimea, the Federation Council supported President Vladimir Putin's appeal for the use Russian troops in Ukraine.
Leaders of Canada, France, Germany, Italy, Japan, UK and the U.S., as well as the chairmen of the European Council and the European Commission issued a joint statement condemning Russia's position on Ukraine and canceled preparations for the G8 summit in Sochi, scheduled for June 2014.

/Trend/