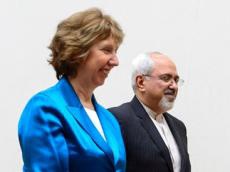 The EU foreign policy chief, Catherine Ashton has said that she will be visiting Iran within the upcoming weeks to talk with Iranian officials on regional developments, IRNA reported.
Ashton announced the news in an interview with the US daily, Wall Street Journal, saying that the visit will be after the next round of Iran-six world powers nuclear talks that will be held in Vienna on February 18th.
The EU top diplomat who recently met with the Iranian foreign minister in Munich on the sidelines of a security conference there added that any final agreement with Iran must be after definitely making sure that the Iranian nuclear program will be merely used for peaceful purposes.
"The negotiations with Iran will be tough and time taking," she emphasized.
Ashton also predicted that the nuclear negotiations with Iran will take more than six months.
She reiterated that everyone knows well that this is going to be a very tough path, and there is no guarantee for it. "In order to reach a satisfactory agreement though, we will take our time."
Ashton's upcoming visit will be her first visit of Iran.
Iran and the P5+1 powers - the permanent members of the UN security council plus Germany - must resolve all remaining differences over Iran's enrichment program either within a six months period after the implementation date of the Geneva agreement (some five months from now), or extend that period for another six months.
Negotiations over a final deal will begin in Vienna on February 18, according to the P5+1's lead negotiator, Catherine Ashton, the EU foreign affairs chief.
Appearing on a panel, The Iranian Foreign Minister Mohammad Javad Zarif said the deal would "need to have options that are palatable to both sides" and warned that "illusions" persisted about Iran's aims and capabilities.
Iran had met its side of the bargain, he said, and the Iranian people were waiting to see that the west stuck to its side. "Believe me, the west does not possess the monopoly on mistrust," Mr. Zarif said.
The clock was set ticking on the final deal negotiations last month, when the International Atomic Energy Authority confirmed Iran had stopped enriching uranium above 5 percent and begun to dismantle its existing stockpile already enriched to 20 percent.
Iran in return is to receive around $7bn of limited sanctions relief. The deal will see restrictions on insurance and other financial products related to crude oil exports lifted, as well as restrictions on the trade of precious metal, and also the unfreezing of $4.2bn in Iranian funds held by foreign central banks.

/Trend/