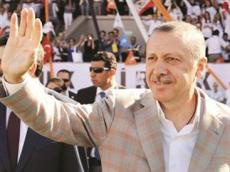 Turkish Prime Minister Recep Tayyip Erdogan has dismissed claims by a Syrian minister who blamed four countries, including Turkey, for a deadly bombing in Damascus on Wednesday that killed top Syrian security officials, saying his country would never think of such a move Today`s Zaman reported
Speaking to reporters in Ankara after his one-day visit to Moscow late on Wednesday, Erdo?an accused the Syrian administration of "disinformation." This is disinformation. For once, nobody can expect us to resort to such methods in a country where our fraternal people of Syria live. Nobody can also say that we took such a step. ... The statements by the information minister are unacceptable," he said.
Syrian Information Minister Omran Zoabi said responsibility for the Damascus bombing "falls directly on the hands of the Arab and Western governments, their intelligence agencies and their spies." He said all countries that have sent "even one bullet to Syria" are responsible.
He added that the bombing was orchestrated by Turkey, Qatar, Saudi and Israeli intelligence and won't go unanswered. "Even those countries which send even one dollar are responsible ... and they will all be punished," he said after the bombing.
Syrian opposition forces detonated a bomb inside a high-level crisis meeting in Damascus that killed three leaders of the regime, including President Bashar al-Assad's brother-in-law and his defense minister. Defense Minister Dawoud Rajiha, 65, a former army general and the most senior government official to be killed in the rebels' battle to oust Assad; Gen. Assef Shawkat, 62, the deputy defense minister who is married to Assad's elder sister, Bushra, and is one of the most feared figures in the inner circle; and Hassan Turkmani, 77, a former defense minister who died in the bombing.
/
Trend
/