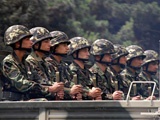 Much done in the country despite that Azerbaijan Democratic Republic established in May 28, 1918 existed 23 months. One of them carried out in the sphere of army creation. It is a very complicated process. The ADR had no national army when established. It is the fact that no state may live without and army. In addition to all the abovementioned the condition was difficult. Bordering countries clearly expressed their wish to occupy young Azerbaijan Democratic Republic.
Since the first day of the national state Armenia started to show serious armed attempts to extend its territories at the expense of that of Azerbaijan's.
Under decision of the government of the Azerbaijan Democratic Republic in June 26, 1918 established the first military unit- separate corpus. This decision gave legal opportunity to the first democratic government of the Moslem East to establish its own army. Then followed the state decree about the military obligation-call to the army. The measures taken by the Azerbaijan government in the establishment on the national army showed its results very soon. Azerbaijan National Army could resist the Armenian army.
In October 9, 1991, the Supreme Council of the Republic of Azerbaijan adopted the decision on the establishment of the Army.
June 26 declared the Day of the Forced Arms according to the decision of the President of the Republic of Azerbaijan from May 22, 1998.
/Trend News/