Speaking to the Financial Times, Daniel Fried, US Assistant Secretary for European and Eurasian Affairs, put support for Georgia as the top of the list of US objectives, followed by an effort "to blunt Russia's efforts to draw a new line in Europe and Eurasia and enforce a sphere of influence," APA reports.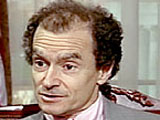 He added that US Vice President Richard Cheney's visit to the region this week is very important.
"Mr. Cheney will visit three of the most endangered countries in the region – not just Georgia but also Azerbaijan and Ukraine".
Daniel Fried indicated that the US would not rush to impose countermeasures on Moscow in the current volatile situation.
"We need to work on this with Europe and we need to think this through," he said. Fried played down any hope that Russia would reverse its recognition of South Ossetia and Abhazia.
"I have greater hopes that they will realize that they are even more isolated every day," he said. "It is self-isolation further than anything the US has come up with…nobody is on their side."
/APA/