Day.Az interview with famous political scientist Hikmet Hajizade.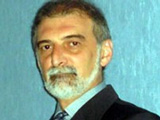 - What do you expect from official visit of Russian President Dmitri Medvedev to Azerbaijan, scheduled for July 3-4?
- Perhaps, several important intergovernmental issues will be discussed,but the most important, what Russia is concerned about are energy problems. Russia tries to prevent Caspian energy sources supply to the world market via Azerbaijan bypassing Russia. Moreover, Russia tries to possess the Caspian gas to strengthen monopolistic positions of Gazprom in ensuring gas for Europe. Perhaps, we will be persuaded to reject support of Georgia.
- A number of experts state that Russia is still ruled by Vladimir Putin, while Dmitri Medvedev fulfills purely representative functions. Do you agree with this point?
- Yes, it is this way so far, but I would like to note that Putin has once been not the sole ruler of Russia and was a representative of a powerful grouping comprising senior officers of the FSS and reconnaissance. Medvedev has not taken any steps, not envisioned by the strategy of the said grouping. His speech during the economic forum in Petersburg was in fact the repetition of the confrontation Munich speech of Putin. But let's not hurry. Medvedev has time for demonstrating himself as an independent politician.
- Vladimir Putin's presidency was marked with a thaw in the Azerbaijani-Russian relations. Can we expect further closing of our countries under Dmitri Medvedev?
- Well, anyway, the relations will not worsen significantly under him, except for any extraordinary cases. Some toughening of policy towards Azerbaijani migrants is possible, which can be prevented by our diplomacy.
- How far can Russia go in its loyalty to Azerbaijan and can we expect from Russia to impose pressure on Armenia strong enough for this country to return the occupied lands to us?
- Under the current course, laid in the mid 1990s and finally formed under Putin, no changes are expected in the Russia's policy towards conflicts in the Caucasus. Too much should change in Russia and in the world for Moscow to reject support of separatism in the Caucasus.
- What can Azerbaijan give to Russia in exchange for such steps as pressure on Armenia?
- Russia demands too much: to reject our independent external and energy policy, give up developing relations with Turkey and NATO, reject support to Georgia, join the Collective Security Treaty, allow Russian frontier guards to guard our borders and return troops to Azerbaijan.
Unfortunately, by doing it all we will not have a guarantee that we will get Karabakh as Russia does not trust Azerbaijan considering it to be a part of a different unfriendly civilization. Russia strategists consider that Azerbaijan will always dream of being with Turkey, strive for European integration and independence from Russia.
/Day.Az/